Join SNUFF on Sunday 11th June for their world premier of the upcoming acoustic album release 'Come And Have A Go If You Think You're Rachmaninoff' – an intimate acoustic performance live from London's Kings Cross – The Lexington. This Live acoustic show will be a hybrid concert with a small attending audience, streamed live to a global audience and recorded.   
Tickets for the Show and livestream will be released from Monday 20th March. There are two ticket types available:
General Admission: 
There are a limited number of 200 tickets to watch in person and attend the show at The Lexington, London. On sale now here.
Livestream & View-On-Demand Ticket: 
Watch the live broadcast of the performance online and stream it at your leisure for 7 days after the show, exclusively on the band's website. If you miss the livestream don't worry as VOD Tickets are available to purchase at any time to re-watch the show, until the content is taken offline on Sunday 18th June, 23:59 BST. See livestream start times below.
Purchase your livestream ticket now and watch online exclusively at https://www.snuffband.com/acoustic-livestream. 
10 Past 12 Records and Vive Le Rock with AfterLive Music present a global livestream of the Snuff album release premiere:
UK & EUROPE STREAM – SUNDAY 11th JUNE AT 15:45 BST / 16:45 CEST.
NORTH / CENTRAL & SOUTH AMERICA STREAM – SUNDAY 11th JUNE AT 07:45 PT / 09:45 cT / 10:45 ET.
ASIA STREAM – SUNDAY 11th JUNE AT 23:45 JST & KST.
AUSTRALIA & NEW ZEALAND STREAM – MONDAY 12TH JUNE AT 00:45 AET / 02:45 NZST
How to watch: Simply Log on with your unique ticket access code from the start time in your time zone listed above. There will be a 15 minute countdown before the show starts, so you don't miss a beat. This concert will only be available to watch on the Snuff website – www.snuffband.com via your laptop, computer, tablet or mobile phone. You can join the Livestream at any time during the live show or watch as View-On-Demand with 24/7 replay access until Sunday 18th June 23:59 BST. 
NOTE: When the Snuff concert ends, the recording will need time to process before becoming available for re-watch as VOD.
VOD Tickets: Are available to purchase at any time until the content is taken offline.
VOD Access: Unlimited 24/7 online replay access for 7 days.
VOD Ends: Sunday 18th June 23:59 BST.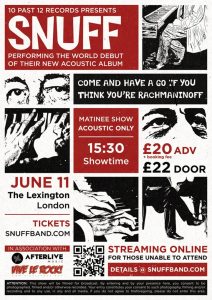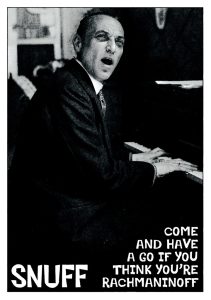 Cover Photo & Artwork courtesy of SNUFF (UK BAND).